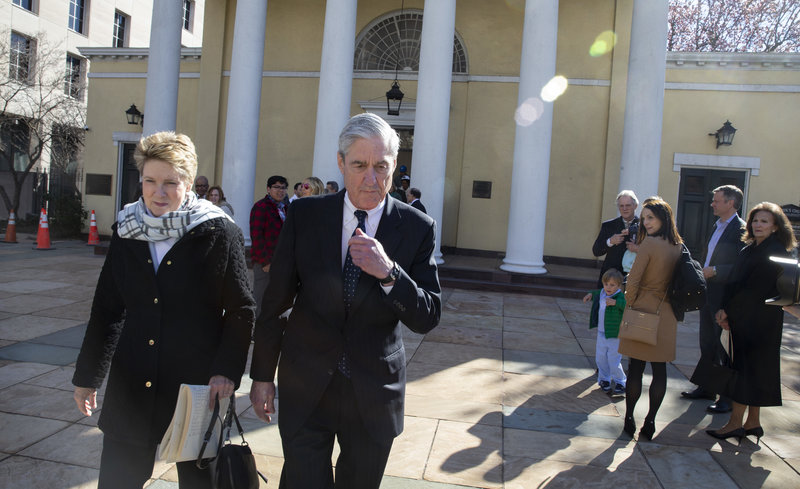 Former UK ambassador Craig Murray, who has worked with Wikileaks and stated that he knew the identity of the person who provided the DNC emails to Wikileaks, confirming that it was an inside leak and not a hack, has reviewed the Mueller report and provides his analysis:
Robert Mueller is either a fool, or deeply corrupt. I do not think he is a fool.
I did not comment instantly on the Mueller Report as I was so shocked by it, I have been waiting to see if any other facts come to light in justification. Nothing has. I limit myself here to that area of which I have personal knowledge – the leak of DNC and Podesta emails to Wikileaks. On the wider question of the corrupt Russian 1% having business dealings with the corrupt Western 1%, all I have to say is that if you believe that is limited in the USA by party political boundaries, you are a fool.
On the DNC leak, Mueller started with the prejudice that it was "the Russians" and he deliberately and systematically excluded from evidence anything that contradicted that view.
Mueller, as a matter of determined policy, omitted key steps which any honest investigator would undertake. He did not commission any forensic examination of the DNC servers. He did not interview Bill Binney. He did not interview Julian Assange. His failure to do any of those obvious things renders his report worthless.


There has never been, by any US law enforcement or security service body, a forensic examination of the DNC servers, despite the fact that the claim those servers were hacked is the very heart of the entire investigation. Instead, the security services simply accepted the "evidence" provided by the DNC's own IT security consultants, Crowdstrike, a company which is politically aligned to the Clintons.


That is precisely the equivalent of the police receiving a phone call saying:


"Hello? My husband has just been murdered. He had a knife in his back with the initials of the Russian man who lives next door engraved on it in Cyrillic script. I have employed a private detective who will send you photos of the body and the knife. No, you don't need to see either of them."


There is no honest policeman in the world who would agree to that proposition, and neither would Mueller were he remotely an honest man.
Read the full blistering analysis here.
Last month, the National Security Archive released documents revealing how the agreements between the U.S. and Soviet Union in the 1980's that were to govern the Soviet Union's withdrawal from Afghanistan – with Washington disarming the jihadists it had funded/supported and allowing free and independent elections – were backtracked on by Washington once withdrawal was underway. According to the archive's summary published with the documents:
The documents show that the U.S. position changed from "the mutual withdrawal of all outside forces" (as President Reagan told Mikhail Gorbachev at Geneva in November 1985), to insisting on continued arms support to the Afghan Mujahedin in 1988 (as National Security Advisor Colin Powell told Secretary of State George Shultz when the latter seemed to embrace "mutual restraint"), to the refusal of free election plans in 1990 if they allowed the Soviet-supported Kabul incumbent, Najibullah, to run. The core U.S. goal had been to bring about a Soviet military withdrawal, and once that was clearly underway in 1988 other factors came to the fore, such as U.S. relations with Pakistan, Congress's commitment to the Afghan resistance, and U.S. insistence that Najibullah had to go.
The Soviet decision to withdraw from its disastrous military invasion of Afghanistan occurred as early as October 1985, according to the documents; but Gorbachev did not set a specific timetable until February 1988 while he sought to create a model of cooperation with the United States for resolving regional conflicts. While the Soviets shared the U.S. goal of an independent Afghanistan, they were especially wary of the power of radical fundamentalists, who dominated in the Pakistan-based resistance, supported by the United States. The Soviet leadership believed that the process of national reconciliation would culminate in free elections under U.N. monitoring and the resulting government would be secular and moderate. However, the documents show that eventually the Soviets accepted the fact that the Reagan administration would continue to arm the more radical factions of the Mujahedin through Pakistan, even in violation of the Geneva agreements. Gorbachev was hoping that progress toward a political settlement could be made by working together with the United States after the signing of the Geneva agreements, thus creating a precedent and further cementing U.S.-Soviet global cooperation.
Read the full summary and view the documents here.
President Trump has made remarks to the effect that the U.S. defense budget in general and the new nuclear arms race in particular are ridiculously expensive. As a recent RAND report confirms, while absorbing the costs of an expensive arms race would be supposedly more difficult economically for Russia, it would also be dangerous for the U.S., both in terms of economic costs and possible unintended consequences – a concept that the neocons and liberal interventionists who have been influential in the past 25 years don't ever seem to grasp.
"Geopolitical measures to bait Russia into overextending itself are likely impractical, or they risk second-order consequences. Many geopolitical measures would force the United States to operate in areas that are closer to Russia and where it is thus cheaper and easier for Russia than the United States to exert influence. Ideological measures to undermine the regime's stability carry significant risks of counter escalation. Many military options … could enhance U.S. deterrence and reassure U.S. allies, but only a few are likely to extend Russia."
Trump's approach for supposedly addressing this problem is to push for a new multilateral arms agreement with both Russia and China. As reported by the Washington Post on April 25th:
"Between Russia and China and us, we're all making hundreds of billions of dollars' worth of weapons, including nuclear, which is ridiculous," Trump said. "And I would say that China will come along, and I would say Russia will come along. It doesn't really make sense that we're doing this."
Russia has expressed some willingness to consider such an agreement but probably has low expectations as the academic news summary service Russia Matters stated in its digest for that week:
Russian Deputy Foreign Minister Sergei Ryabkov told reporters on April 26 Moscow is closely following reports that the U.S. would like to reach a nuclear weapons deal with both Russia and China, and is "willing" to negotiate. Ryabkov also said that Russia "would like to convince" the U.S. to adopt a joint statement that would condemn any use of nuclear weapons. In October, Russia sent the U.S. a draft joint declaration on how to prevent nuclear war, only to never hear back from Washington, Kommersant reported. "Nuclear war cannot be won and it must never be unleashed," Kommersant quoted Russia's draft joint declaration as stating. (AP, 04.26.19, The Moscow Times, 04.19.19)
China, on the other hand, is straight up dismissing the idea. A spokesman for the Chinese foreign ministry explained that it's up to the world's largest nuclear weapons powers (Russia and the U.S.) to lower their arsenals, thus laying the groundwork for the smaller nuclear-armed nations to do so. According to a May 6th article in Reuters:
BEIJING (Reuters) – China on Monday dismissed a suggestion that it would talk with the United States and Russia about a new accord limiting nuclear arms, saying it would not take part in any trilateral nuclear disarmament negotiations.

….Chinese Foreign Ministry spokesman Geng Shuang said that the country's nuclear forces were at the "lowest level" of its national security needs, and that they could not be compared to the United States and Russia.

"China opposes any country talking out of turn about China on the issue of arms control, and will not take part in any trilateral negotiations on a nuclear disarmament agreement," Geng told a daily news briefing, when asked about Trump's remarks.