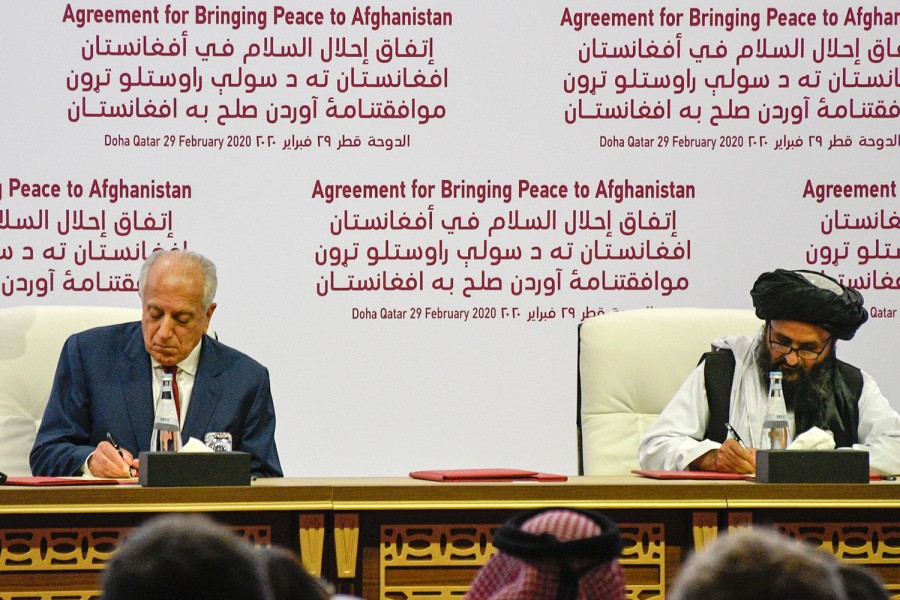 On Saturday, February 29th, the U.S. and the Taliban signed a peace deal in which U.S. forces will the leave Afghanistan in stages. Stars and Stripes reported the following details:
DOHA, Qatar — The United States and its foreign allies will withdraw all forces within 14 months and end the war in Afghanistan if the Taliban renounces terror groups and abides by a joint agreement signed in Doha on Saturday.
The agreement mandates a phased drawdown of American, NATO and foreign partner troops from Afghanistan and a disavowal of al-Qaida and other terror groups by the Taliban.
It also calls for intra-Afghan talks to include the Taliban and the government in Kabul beginning March 10, as well as security cooperation by all sides in fighting the Islamic State…
…The U.S. is expected to reduce its troop strength in Afghanistan from about 12,000 to 8,600 within 135 days, the agreement states. All U.S. troops and their allies would also completely withdraw from five unspecified bases. Remaining troops would leave within 14 months of Saturday's accord.
A reduction in troops to 8,600, about the number in Afghanistan when President Donald Trump took office in 2017, would not harm a counterterrorism mission that combats ISIS and other groups, U.S. military officials have said since last fall.
According to the agreement, the U.S. will continue to fund the Afghan government and can halt the drawdown of forces if it determines that the Taliban are not living up to their end of the deal. How this would be determined is not explained. Additonally, an exchange of prisoners – 5,000 Taliban fighters and 1,000 Afghan government troops – will occur on the first day of negotiations between the Taliban and the Afghan government on March 10th.
Analysis of the deal is provided by journalist Azmat Khan on Democracy Now!
https://www.democracynow.org/2020/3/2/us_taliban_peace_deal
In the aftermath of clashes between Syrian troops and Turkish forces, the Russian government has announced it will be sending two warships armed with cruise missiles to the coast of Syria. The parties to the conflict have given different explanations for the clashes and the Turkish president is threatening to continue attacks on Syria:
Over 30 Turkish troops were killed in Idlib Province, and Russia says that they hold Turkey responsible for their own casualties. They said Turkey was not disclosing the location of their troops, and also were embedded with Islamist rebels, making themselves a target.
Turkey has denied this, saying they weren't with the rebels, and that they'd told Russia where their troops were when they got killed. The Turkish forces are threatening more attacks on Syria going forward.

On Sunday and into Monday, Turkey continued both air and ground attacks on the Syrian army in Idlib:
Throughout Sunday and into Monday, Turkey has launched a flurry of airstrikes against the Syrian military in Idlib Province, and new ground offensives aiming to reclaim territory in the border province, to expel the Syrian government and ultimately replace it with Turkish-backed rebels.
Turkish officials have vowed to continue to move against Syria, and have promised to move against any Syrian government targets as legitimate military targets. On Saturday, 48 Syrian soldiers were killed. Turkey subsequently downed a pair of aircraft.

According to al- Jazeera, Turkey shot down the two Syrian fighter jets in retaliation for Syria's downing of a Turkish drone hours before. The pilots, however, survived by parachuting to safety. The Syrian government claims it has now closed airspace over the province:
Amid the escalating tensions, the Syrian government closed the airspace over Idlib, with one official telling [Syria's state run news agency] SANA any aircraft "that violates our airspace will be treated as a hostile flight that must be shot down and prevented from achieving its objectives".

************************************************************************
With respect to the extradition hearing for Julian Assange in London, the court has continued the hearing until May 18th. Below is an interview of Consortium News editor Joe Lauria, who has been covering the Assange hearing from London, by Chris Hedges.