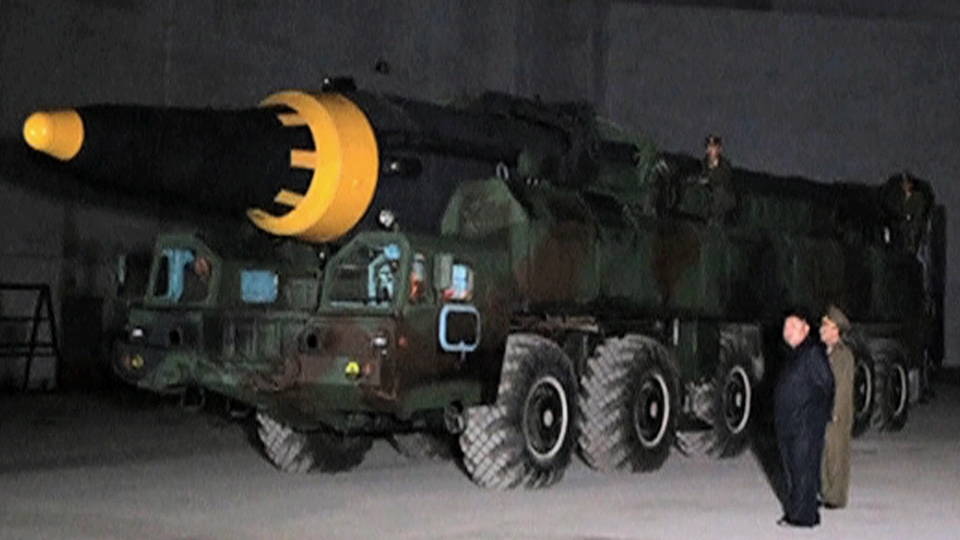 https://www.democracynow.org/2017/9/5/headlines?utm_source=Democracy+Now%21&utm_campaign=a7f4e4cab0-Daily_Digest&utm_medium=email&utm_term=0_fa2346a853-a7f4e4cab0-191485825
Less than 2 weeks after firing an intermediate range ballistic missile over Japan, for which the UN Security Council condemned it, North Korea has now tested what is purportedly a hydrogen bomb (unconfirmed) in its latest show of force in the game of posturing and bluster between Washington and North Korea.   This comes just days after the U.S. and South Korea concluded their annual war games near the North Korean border.   Democracy Now! reported the following:
On Monday, the U.N. Security Council met to address the test. U.S. Ambassador Nikki Haley accused North Korea of "begging for war." President Trump tweeted, "The United States is considering, in addition to other options, stopping all trade with any country doing business with North Korea." Experts say this proposal is next to impossible, since ceasing trade with China, Brazil, Germany, Mexico and other countries would be an economic catastrophe for the U.S.

Trump also blasted South Korea for being open to initiating peace talks with the North, tweeting, "South Korea is finding, as I have told them, that their talk of appeasement with North Korea will not work, they only understand one thing!" Trump is also preparing to withdraw from a trade agreement between the U.S. and South Korea.
Russian president Putin and the newly elected president of South Korea, Moon Jae-in, both publicly condemned the latest North Korean action after a telephone conversation on Monday; both also reiterated that only diplomatic means can bring about a resolution to the problem.  Putin also had some interesting comments on the tension in the Korean peninsula that he delivered this past Friday during his press conference at the end of the BRICS meeting in China (more on that meeting further down in this post).  An excerpt of the comments were provided by RT:
"It is necessary to push the issue to a dialogue between all interested parties. All participants in this process, including North Korea, should not have any of these considerations that are associated with the threat of destruction, but, on the contrary, all parties to the conflict should get on the path of cooperation".
"As I told my colleagues yesterday, they (North Koreans) will eat grass but will not stop their program as long as they do not feel safe. What can restore their security? The restoration of international law".
In response to Trump's threat of more sanctions, including on any nation that does any kind of business with North Korea, Putin said:
"Of course, it is ridiculous to put us on one sanctions list with North Korea and then to ask to help them with sanctions exercises against North Korea".
Continuing his remarks about the dangers of further escalation of the tensions and refusing to turn toward a serious negotiated settlement of the crisis on the Korean peninsula:
"It is necessary to take steps to be engaged in a dialogue with all the concerned parties. It is necessary that all the participants of the process, including North Korea would not have any fears related to the threat of the devastation, but instead all the parties to the conflict should take the path of cooperation.

Warmongering would not bring any positive result in such conditions. It could result in a global catastrophe and to a huge number of casualties".
With respect to Washington's heavy-handed treatment of the Russian consulate and its staff in Washington D.C., New York, and particularly, the San Francisco consulate, which was ordered to be evacuated within 2 days and possession taken by the Americans earlier this month, Putin said the Russian government was planning on bringing legal action:
"First of all, I will instruct the Foreign Ministry to go to court, we'll see how effectively the vaunted American judicial system works".
The portion of the Vienna Conventions that have been violated by Washington are summarized by Canadian Russia expert Patrick Armstrong:
DIPLOMATIC PROPERTY. A complete violation of the Vienna Convention: "Article 22. The premises of a diplomatic mission… are inviolable… The host country must never search the premises…". Washington has set a precedent that will come back to bite it: what's to stop any country that thinks it's on Washington's target list from doing the same? Incredible. Who's in charge?
But Putin saved his scrappiest comments for the overall political culture in Washington and how increasingly frustrating it is to deal with the level of ignorance and hubris there:
"It is difficult to have a dialogue with people who confuse Austria with Australia. You can do nothing about it. That seems to be the level of political culture of a certain part of the American establishment.

….the American nation, the American people, America is really a great country, a great nation… of such people with such a low level of political culture".
Sounds like Putin is getting about as frustrated with Washington as he was in 2007 at the Munich Security Conference where the Russian president had the audacity to tell a room full of western power brokers to their faces that the emperor had no clothes.   Read the transcript of this oldie-but-goodie speech by Putin here or, better yet, if you have time, watch the video with subtitles here .   Most of his points are still valid today and this speech is a contributing factor in why the political class in Washington hates Putin.
Despite the depressing mood regarding the North Korea issue, a delegation from North Korea has arrived in Vladivostok, Russia for the Eastern Economic Forum (consisting of Russia, China, Japan, Vietnam, Mongolia and the Koreas).  The South Korean president will also be arriving.   Adam Garrie at The Duran provided the following details:
The Forum is an event designed to enhance economic partnerships and cooperation between multiple Asian nations including Russia, China, Japan, Vietnam and the Korean states.

This year's summit occurs days after North Korea tested what is thought to be a hydrogen-weapon. Russia and China have both condemned the move and support UN sanctions against Pyongyang, but are equally opposed to further crippling unilateral sanctions from Washington.

With many suspecting that North Korea would boycott the event, Russian officials have confirmed otherwise, stating that the North Korean delegation is already in Vladivostok.

South Korean President Moon Jae-in is to arrive shortly along with the South Korean delegation. While the Korean crisis is set to dominate discussions that would otherwise have been reserved for discussing trade and economic matters, it is not yet clear if the North and South Korean delegations will interact at any level.

Many suspect that Russian President Vladimir Putin who hosts the event will attempt to conduct dialogue with the representatives of both Korean states in order to try and de-escalate regional tensions.
Can Putin pull another rabbit out of his diplomatic hat like he did with Syria a few years ago?  Hard to say, but hope springs eternal.
To round out suggested reading on the North Korea issue this week, are two articles:
1)  Robert Parry provides important contextual background on why the North Korean leadership would find it more rational than ever to pursue a nuclear weapons program in light of the fates of Iraq's Saddam Hussein and Libya's Qaddafi – both of whom gave up their WMD programs and were subsequently liquidated and their respective countries plunged into havens for terrorists and low living standards.  Read his latest article 
How "Regime Change" Wars Led to Korea Crisis
; and
2)  Col. Lawrence Wilkerson, former chief of staff to Colin Powell and foreign affairs analyst, discusses how our relations with North Korea devolved from a negotiated plan in the early 1990's for North Korea to give up its nascent nuclear program to today's conditions of no negotiation and increasing nuclear threats by both sides.   Read Wilkerson's North Korea Crisis Paved by Clinton-Era Pols, GOP Naysayers. 
**************************************************************************
At the BRICS summit in China last week, it was announced that China would contribute 500 million yuan for a technology and cooperation plan for the group of "developing" countries.  According to Euronews:
China will give 500 million yuan (64 million euros) for a 

BRICS

 economic and technology cooperation plan.

Chinese President Xi Jinping says there will also be the equivalent of a further 3.3 million euros for projects at the BRICS countries' New Development Bank.
The announcement comes amid questions over the relevance of BRICS and China's commitment to its New Development Bank (NDB) in light of the Belt and Road initiative and the China-led Asian Infrastructure Investment Bank.
The Duran is also reporting that high-speed rail connecting future members of the One-Belt-One-Road project in Eurasia was discussed in the context of BRICS:
With BRICS members discussing the feasibility of using investment capital from the BRICS Development Bank to jointly finance Russian High Speed Rail, it becomes ever more clear that the BRICS bloc functions best when cooperating with other regional endeavours including One Belt–One Road, the Eurasian Economic Union which was founded by Russia as well as the Shanghai Cooperation Organisation which aims to create enhanced security cooperation between member states.

The CEO of the Russian Direct Investment Fund, Kirill Dmitriev has stated,

"We discussed the Eurasia high-speed railway project with partners within the framework of the (BRICS) summit. We are now looking at it more actively, and see that RZhD (Russian Railways) already has significant progress on the model which shows more interesting yield now. We see investors' growing interest to this project".
**************************************************************************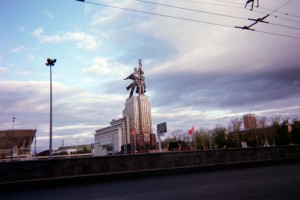 Veteran journalist of Russian economic affairs, Ben Aris is reporting over at BNE's Intellinews that the Russian government is reducing its military spending and allocating more of its budget to domestic needs.  This, combined with the country coming out of its recession, is designed to restore confidence and optimism in time for the presidential elections next year.
With the presidential election now only a year away, which Russian President Vladimir Putin, virtually unopposed, is expected to easily win, the Russian government has changed its budgetary focus and boosted social spending to soften up the electorate.

Budget spending increased by over 6% year on year (y/y) in the first six months, which meant real growth was rather moderate. Russian GDP adjusted for seasonal and calendar factors rose 2% y/y and declined 0.6% month on the month in July, state development bank Vnesheconombank (VEB) said in a research note on August 24.

Social spending, however, increased by about 10%, even when omitting the one-time payout to pensioners at the start of the year. Budget spending in the housing sector as well as in different sectors of the economy turned to notable growth after some years of decline. Even with a slightly less severe restraint, the spending track on education remained weak, while spending on healthcare declined. The zero-growth line on administration spending seen last year remained in place, outlines the Bank of Finland Institute for Economies in Transition (Bofit).

And the increase in social payment comes not a moment too soon. While the economy has been starting to show visible signs of growth, this has yet to trickle down to the man in the street. Real incomes have started to rise, but the more important real disposable incomes (the extra money Russians have to spend on themselves) only turned positive in June – and even then its growth remains anaemic.
In addition to direct social spending, Putin has also approved $2.5 billion to be allocated for upgrading the Trans-Siberian rail system. According to Asia Times:
Russian has approved US$2.5 billion to expand and modernize the Trans-Siberian and Baikal-Amur railways as part of a larger rail project to boost economic growth and exports from the country's Far East region that borders the Pacific Ocean.

President Vladimir Putin has given the green light for the government to allocate money from the National Welfare Fund for this stage of the railway expansion project, which could eventually cost $9.5 billion.

Russian Railways (RZD) will cover $5.1 billion of the total cost of the project, which was first approved by the government's transport commission back in 2014. The state will foot the rest of the bill.

About $1.7 billion will be allocated in 2017 and the rest next year to commission 580 kilometers of additional main lines and upgrade signaling on 680 km of railway and 43 crossings. It will include renovation of 90 railway stations.

"It is expected that the Russian budget over 30 years will receive $8.2 billion" from the added infrastructure, the rail operator said in a statement on its website.

"The project will allow additional cargo volume of up to 66 million tons a year, which will contribute to the development of industrial enterprises in the region, create new jobs, and the necessary economic conditions for effective and sustainable development of Siberia and the Far East."

Modernization of the railways will increase Russia's export opportunities, Mikhail Blinkin, director of the Transport Economics and Transport Policy Institute at the National Research University Higher School of Economics, said in an interview.