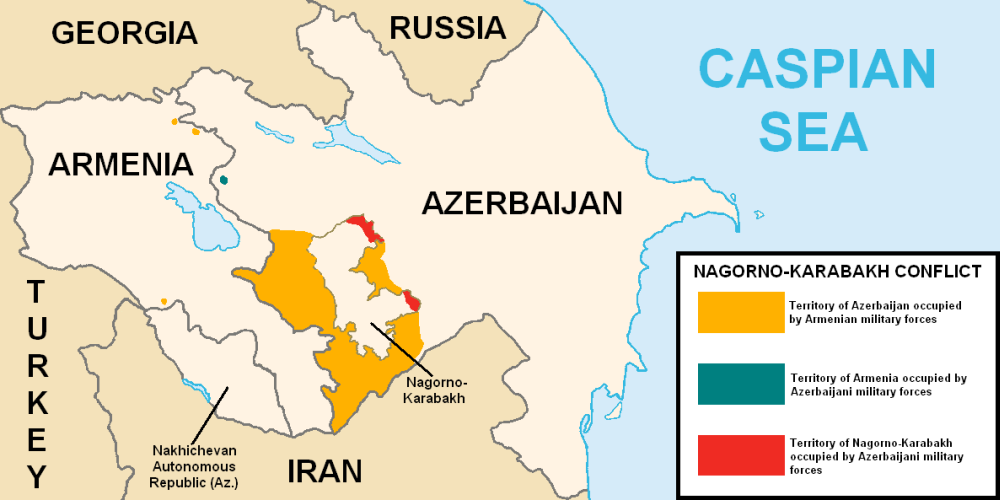 After Azerbaijan forces took Shushi (aka Shusha by Azeris) on Monday – the second largest city in Nagorno-Karabakh – and were said to be close to taking the capital of Stepanakert, the Armenian Prime Minister announced that he had agreed to an armistice. According to Antiwar.com:
[Armenian PM Nikol] Pashiyan said he signed the deal with Russian President Vladimir Putin and Azerbaijani President Ilham Aliyev. "I have signed a statement on the termination of the Karabakh war with Russian and Azerbaijani presidents from 01.00 pm," Pashiyan said on Facebook.…

Pashiyan said the statement "is unbelievably painful for me and our people," meaning he likely agreed to cede territory to Azerbaijan.
At the time of that report, details had not yet been made public. A later report from RT stated the following:
According to the text of the agreement that appeared in Russian media around midnight Moscow time – when the armistice was to take effect – Russia will deploy almost 2,000 peacekeepers along the line of contact and the "Lachin corridor," the road connection between Nagorno-Karabakh and Armenia proper.
These peacekeepers will move in as the Armenian armed forces withdraw, and will stay for five years, according to the draft. An automatic five-year extension of their mandate is envisioned, unless any of the parties objects six months before its expiration.
Neither Armenian nor Azerbaijani forces are supposed to advance beyond their current positions. This leaves the remaining territory of the Nagorno-Karabakh autonomous region somewhat surrounded, with only a 5-kilometer-wide corridor to Armenia proper, under protection of the Russian peacekeepers.
A new road is supposed to be built through the Lachin area over the next three years, to connect Armenia with Stepanakert, the capital of Nagorno-Karabakh. In parallel, another road will be built through Armenia to connect Azerbaijan with its enclave of Nakhichevan in the southwest. Until then, Russian border troops will supervise the existing road traffic through Armenia to Nakhichevan.
The agreement also allows for the exchange of prisoners and return of the bodies of soldiers killed. The return of refugees displaced by the recent fighting will be overseen by the UN's agency for refugees.
An earlier report by Asia Times stated that the deal was hammered out personally by Putin and Turkish president Erdogan and that the peace-keeping mission would be conducted jointly by Russian and Turkish troops. Furthermore, it was pointed out that there are still outstanding concerns for Russia:
If Putin and Erdogan made a deal as reported, there are still tensions between the two that have to be sorted. The most significant is the presence of Syrian radical Islamic fighters imported into Azerbaijan for the Nagorno-Karabakh battle.
Both Putin and Russia's Foreign Minister Sergey Lavrov have warned about the presence of the Syrian radicals and made clear they want them out.
Russia also has a black eye because its modern equipment, especially it's air defense systems situated at bases in Armenia, failed to stop Azerbaijan's drone assault. Many of Russia's air defenses were knocked out, including its S-300, by both Turkish Baraktar drones and Israeli Harop suicide loitering munitions.
Thousands of angry Armenians went out in the streets of the capital Yerevan today with reports of government buildings being stormed. Meanwhile, there were scenes of jubilation in Azerbaijan.
According to Democracy Now!: "It is estimated the conflict has killed at least 1,000 people and displaced over 100,000, though some say the death toll is much higher."
*Update 1: Professor Paul Robinson has done a good write-up here as well.
*Update 2: Russia has denied that Turkey will be part of a joint peacekeeping mission in Nagorno-Karabakh. However, Erdogan has publicly stated, following a telephone conversation with Putin, that Turkey will be helping to monitor the situation from a joint center – the location of which is to be determined by Azerbaijan:
Presidents of Russia and Turkey Vladimir Putin and Recep Tayyip Erdogan conducted a phone conversation on Tuesday discussing the situation in Nagorno-Karabakh and Syria, the Directorate of Communications of the Turkish President told journalists.
"President Erdogan during the talks noted that yesterday a step in the right direction was made on the path to the permanent settlement in Nagorno-Karabakh. President Erdogan stated that Turkey together with Russia will also conduct observing and monitoring activity over ceasefire using a joint center which will be created in a region determined by Azerbaijan in a territory liberated from Armenian occupation," the communique made public after the conversation said.