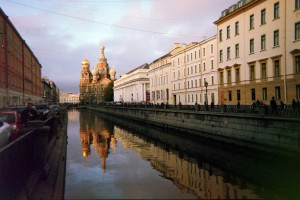 In this article, long-time peace activist, Kathy Kelly, explains why she decided to join a  citizen diplomacy delegation to Russia, led by Sharon Tennison and the Center for Citizen Initiatives.  The delegation is currently in Crimea, after having spent several days in Moscow.   They will also be visiting Krasnodar and St. Petersburg. The delegation's other members include retired CIA analyst Ray McGovern and Col. Ann Wright.
It's important for U.S. people to learn more, from ordinary Russian people, about their responses to troop build-up and new bases on their borders, threatening military exercises, and antagonistic arsenals of nuclear weapons on high alert. As President Vladimir Putin begins summoning a new Russian National Guard that could include 400,000 troops, it's also important to hear how Russian people feel about this development.

Rather than foster cartoon[ish] versions of foreign policy, the media should help people recognize complexity in Russian society and include awareness of desires to live in peace on the part of most people in both countries.

U.S. people committed to peace making might help ordinary Russians sense the complexity of U.S. society and better understand how U.S. military spending and build up toward war adversely affects civil society in the U.S.
Read the full article here: