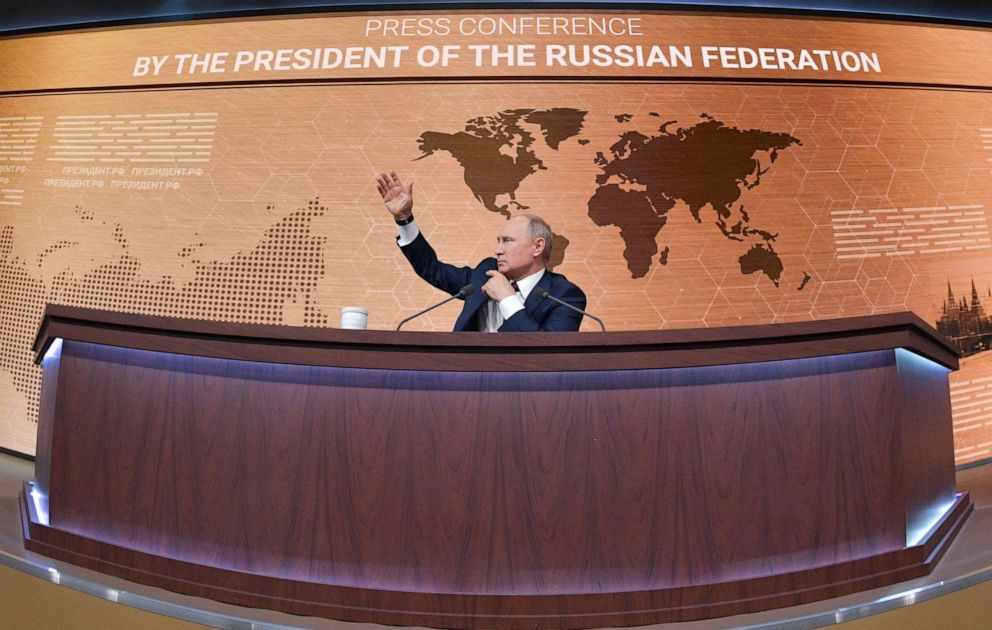 During his traditional end of year Q&A on December 19th, Putin made some comments about possible changes that could be made to the Russian constitution. These comments have been the subject of some attention by international media and Russia watchers. This has included some strange interpretations suggesting that Putin may use the mentioned changes to somehow finagle staying in office past 2024 when his current presidential term ends.
As context for Putin's comments, currently the Russian constitution states that a president cannot serve more than two consecutive terms. The 1993 constitution came about as a result of the showdown that had arisen that year between Yeltsin and the Duma – which tried to rein in his abuses of power. The standoff was resolved when Yeltsin ordered the military to attack the parliament building with force, killing around 500 and wounding around 1,000. The 1993 constitution consequently provided for a strong executive and a weak legislative branch. Putin inherited this arrangement and has utilized it to great effect to implement his agenda, but he was not responsible for its establishment.
Below is a transcript of Putin's remarks regarding the constitution, including the question that prompted them:
Yelena Glushakova: Yelena Glushakova, RIA Novosti.
Since you mentioned that you are a lawyer, the first part of my question relates to legal matters, Mr President. My question will be on the Constitution. In your opinion, could it be that the time has come to amend the Constitution? These questions surface every now and then, and have recently been discussed. If the time has come, what part could be changed? Are you satisfied with the amendments that were introduced ten years ago to change some articles in our Constitution?
The second part of my question is about politics, and relates to the political system our country has. Within a few days, it will be 20 years since you came to the helm. Is there a need, in your opinion, to make changes, like maybe reassigning powers between the parliament, the government or even the president?
And my final question, if you allow me. Do we have competition in Russian politics, in your opinion?
Thank you.
Vladimir Putin: Regarding the Constitution, this is a live tool that has to keep up with the evolution of society. However, it is my belief that we do not have to change the Constitution, I mean adopt a new one, especially since it sets forth some fundamental principles that we have yet to fully achieve. This refers to its first chapter. I believe this part to be sacrosanct.
All the other provisions can be amended in one way or another. I am aware of the ongoing debates on this subject; I see them and hear them. I understand the logic behind what others propose. This is related to possibly expanding the powers of parliament and changing to some extent the powers of the president and the government. But all this has to be well prepared, result from a meaningful debate within society, and be carried out with extreme caution.
Regarding the past amendments, as far as I know, they were related to the number of terms. What could be done in this respect? We could take out the mention of "consecutive" terms. We have this provision, and yours truly served for two consecutive terms, then left this office and had the constitutional right to once again become president, because this did not interfere with the "two consecutive terms" limit. Some political observers and civil society activists have voiced misgivings over this provision. We can probably remove it.
There are some other questions, but they are more about preferences rather than necessity.
I can once again mention the powers of parliament. I do understand political parties, especially those represented in parliament, that believe that we have reached a level in the development of parliamentarism in Russia when parliament could take on additional functions and assume greater responsibility. All we need is to give this idea serious thought.
As for competition in politics, 54 parties are registered in Russia, and four of them I believe are about to be dissolved. Still, 50 parties is a good number, and 12 of them operate at the federal level. I believe that this meets the standard for political competition.

My guess is that Putin will step down in 2024 with a chosen successor who will run successfully in the election. Putin, barring a serious breakdown in physical or cognitive health, will likely still have a strong advisory role behind the scenes.
Over the weekend, it was announced that a large prisoner exchange was successfully completed pursuant to the recent Normandy meeting. Democracy Now! reported the following details on December 30th:
Ukrainian government forces and Russia-backed separatists completed a prisoner swap Sunday in Eastern Ukraine. The office of Ukrainian President Volodymyr Zelensky announced at least 76 pro-government prisoners had been returned in exchange for over 120 pro-Russia detainees. Zelensky and Russian President Vladimir Putin agreed on the exchange during peace talks in Paris earlier this month.

Meanwhile, Reuters is reporting that a gas transit deal was finally reached between Ukraine and Russia's Gazprom just before the current deal was set to expire December 31st.
MOSCOW/KIEV (Reuters) – Russian and Ukrainian companies signed a final five-year agreement safeguarding Russian gas transit to Europe via Ukraine, Kremlin-controlled gas giant Gazprom and Ukrainian President Volodymyr Zelenskiy said on Monday night…
…The final deal on the Russian gas transit to Europe via Ukraine was finally sealed after the two countries initially agreed on the protocol on Dec. 20
Payment of $2.9 billion in legal damages by Russia to Ukraine on Friday was one of the key issues standing in the way of the gas deal. In response, Ukraine dropped more multibillion-dollar legal claims against Russia.