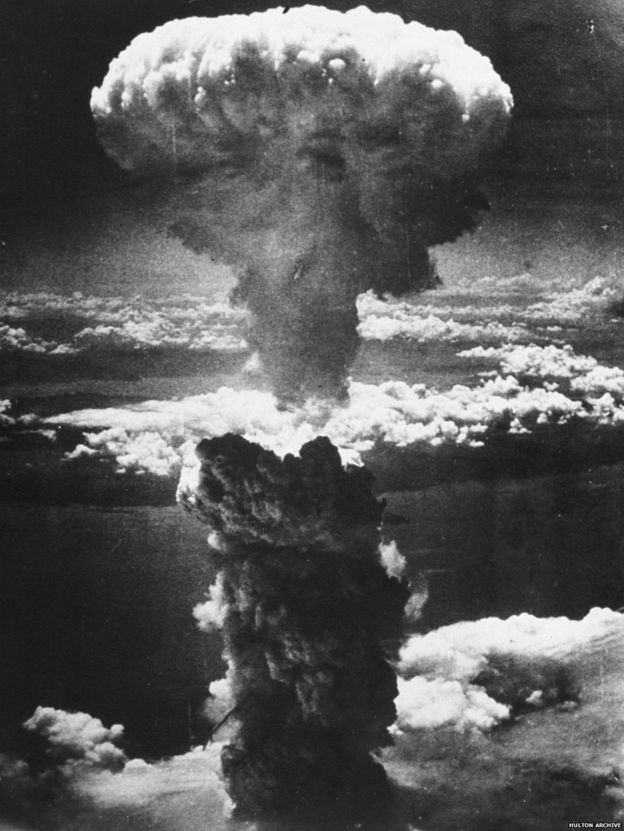 In 1994, when [William Perry] became President Bill Clinton's secretary of defense, the US faced an entirely different set of security problems. The cold war was over, and the nuclear weapons of the former Soviet Union were located not only in Russia, but also in three new republics that were not capable of protecting them.  Perry gave these "loose nukes" his highest priority. He was able to arrange for the dismantling of all of the thousands of nuclear weapons in the Ukraine, Belarus, and Kazakhstan. He movingly tells of visiting a silo built for the Soviet SS-19 missile and watching it disintegrate in a cloud of smoke. Earlier he had visited the site and was briefed by young Russian officers on how the hundreds of missiles under their control would have been fired at targets in the United States. Observing a practice countdown at a site that at that very moment was targeted by American missiles, he realized what an absurdity had been created by nuclear competition.
-Jerry Brown, A Stark Nuclear Warning (Review of My Journey at the Nuclear Brink by William J. Perry)
 Jerry Brown provides an excellent and thought-provoking review of William J. Perry's book, My Journey at the Nuclear Brink, this month at the New York Review of Books.  Perry's impressive resume includes a "Ph.D. in mathematics, vast technical training and experience in high-tech business, management of research and weapons acquisition as an undersecretary of defense under President Carter, and deputy secretary and then secretary of defense under Bill Clinton."
Brown takes the reader through Perry's evolution of thought about the weapons that he was providing research, management and advice on over the course of decades.  He started out as a senior scientist at Sylvania Electronic Defense Laboratories in what is now known as Silicon Valley but was, in the 1950's, one of the bastions of the defense industry, particularly nuclear weapons.  Brown describes Perry's first job at Sylvania as providing his first epiphany about the utter insanity and nihilism inherent in nuclear weapons:
Perry's first job at the Electronic Defense Laboratories was "to evaluate a proposed electronic countermeasure system" intended to jam "the guidance signal of an attacking Soviet intercontinental ballistic missile (ICBM)." After careful study, he reported that jamming could successfully reduce fatalities from a medium-size nuclear attack by about two thirds, that is, from 75 million immediate deaths to 25 million. But he later noted that this estimate did not take into account long-term deaths from radiation and "nuclear winter." Nor did it include the tens of millions of wounded who couldn't be treated or the total disruption of the economy and the fabric of our society.  This was the moment when Perry concluded that there could be no acceptable defense against a mass nuclear attack, an opinion from which he has never deviated.
At the end of the Eisenhower administration, Perry worked on the team that CIA director Allen Dulles oversaw to determine if the famous "missile gap" with the Soviets actually existed.  Perry had determined that none existed but states in his book that his report was kept secret for years. During the Kennedy administration, Perry served on a committee set up by the CIA and NSA to assess the Soviet Union's ICBM weapons and was part of the analytical team that studied data and reported the results to the president during the Cuban Missile crisis.  During that period, Perry feared each day that it might be the end.
At this point in the review, Brown relays Perry's observation that "it was by luck that we avoided a nuclear holocaust in the Cuban crisis." He describes additional dangers during the crisis that were unknown to many at the time but later came out, such as the fact that, due to communications challenges, Moscow had authorized the commanders of the submarines that were approaching the U.S. blockade of Cuba to fire without further approval.  Of the three commanders on board one of the Soviet submarines that an American destroyer was attempting to force to the surface, one dissented from ordering a launch on the American vessel, averting a nuclear escalation.
Additionally, an American reconnaissance plane strayed into Soviet airspace during the crisis, triggering the scrambling of Soviet attack jets.  Fortunately, the pilot realized his error in a timely manner and was able to exit Soviet airspace before the planes could reach him.
The volume of these near misses has been documented by journalist Eric Schlosser, author of Command and Control, and would almost make an atheist believe in the intervention of a higher power in saving humans from their sheer recklessness with respect to the most destructive weapons ever developed.
Near Misses
In a 2013 interview with Michael Mechanic for Mother Jones magazine, Schlosser discussed the accidents that served as an inspiration for him to write the book.  This includes a 1961 accident in which a US Air Force plane dropped a hydrogen bomb in a North Carolina town.  It failed to detonate thanks to one remaining safety valve that worked after the other five had failed.
A few of the other accidents included a 1966 collision between a B-52 bomber and a refueling tanker over Spain, resulting in the B-52 breaking apart and dropping its load of 4 hydrogen bombs with 2 partially detonating, polluting the Palomares region with radiation; a 1968 B-52 crashing in Greenland where 3 of its hydrogen bombs contaminated an icy area of roughly a quarter million cubic feet; a 1985 incident in which a weather anomaly set off a Soviet early warning satellite indicating an American launch of 5 ICBMs – miraculously, the watch commander decided it had to be a mistake and chose not to report the alarm further up the chain of command, averting another possible nuclear escalation; and a 1995 incident in which the Russian Federation's early warning system mistook a Norwegian weather rocket as "an incoming U.S. Trident missile."  Before the mistake was realized, the Russian military had gone into preparations for a potential counter-attack.
In the Mother Jones interview, Schlosser discussed more recent incidents:
The incident in 2007, when we lost half a dozen hydrogen bombs for a day and a half, was an incredibly serious security lapse:  The fact that nobody was asked to sign for the weapons when they were removed from the bunker, the fact that nobody in the loading crew or on the airplane even knew that the plane was carrying nuclear weapons is just remarkable….A few years ago, they lost communication with an entire squadron of Minutemen missiles – 50 missiles! – for almost an hour.  They had to decertify the maintenance crew that looks after the biggest Air Force storage facility in New Mexico.  Seventeen launch officers were taken off duty earlier this year for safety violations.  There's a sense of a lack of direction, and mismanagement right now – particularly in the Air Force.  And it's intolerable.  It's unacceptable.
Not only does a mail order package from Victoria's Secret have more tracking requirements historically than flights with nuclear payloads, but Schlosser also documents that the guardians of the nuclear arsenal are often lackadaisical, inadequately trained and have substance abuse problems:
One of the lessons would be, if you're going to have nuclear weapons, you must spare no expense in the proper maintenance of them.  The Titan II was widely regarded as obsolete.  They were running out of spare parts.  There were frequent leaks, and the warhead was acknowledged not to have adequate safety devices.  The people working on it were often poorly trained, poorly paid, overworked.  There were shortages of trained technicians.  In retrospect, it was completely irresponsible to have all those things occurring with a missile carrying the most powerful warhead ever put on an Air Force missile.  It's just extraordinary.  And there were high rates of drug use.  I spoke to people who had been involved in sensitive nuclear positions who were smoking pot all the time.  You don't want people smoking pot and handling nuclear weapons. [emphasis in original]
Additionally, there are bureaucratic walls between various agencies involved in the design, implementation or oversight of the weapons.  Schlosser describes the occasion when he provided a copy of a document listing "broken arrows" or accidents and less serious nuclear incidents to a famous weapons safety expert, Bob Peurifoy:
He was stunned and very depressed by it, because it was clear that there were many incidents that were not being shared with him.  There was an enormous amount of compartmentalized secrecy, and that was to prevent secrets from being too widely shared and potentially leaked.  But what that meant was people in different parts of the system didn't have an overall view of how the system was operating – and that can be very dangerous. The people designing the weapons literally didn't know how they were being handled in the field by the Air Force – and a lot of people in the Air Force didn't understand some of the dangers.  There's a very strong element of madness in this.
The Hawks and the Merchants of Death
Perry points to another disturbing aspect of the Cuban Missile Crisis that is still with us today.  Military and national security advisers who wanted to escalate the crisis.  As Brown writes:  "[There were] advisers on both the Soviet and U.S. sides who wanted to rush into war."
As I detailed in my review of JFK and the Unspeakable by James Douglass, Kennedy was stunned at what he was hearing from some of his advisers early in his administration, including proposals to do a nuclear first strike on the Soviet Union, with figures of hundreds of millions of Soviet casualties and tens of millions of American retaliatory casualties tossed around as an acceptable cost-benefit analysis on behalf of vanquishing the "evil empire." Kennedy described some of these advisers as having a "collective death wish" for humanity.
Perry also notes the insidious role played by the media which "treated the crisis as 'a drama of winning and losing.'"
As an article in Foreign Affairs in 2006 revealed, a nuclear first strike on Russia is still a dream cherished by certain fanatics in Washington.  Moreover, with Neocons and advocates of Brzezinski's Grand Chessboard still having huge influence on foreign policy in both major parties and the corporate media, regardless of the dangerous crises their interventions and cheerleading have unleashed, one cannot say we've left this aberrant mentality behind.
Another pernicious factor recognized by Perry is the profit motive of the military industrial complex.  Perry admitted that his previous work in trying to figure out and counter the Soviet missile and space systems was "exhilarating and highly profitable."  The development of new technology ensured the increased outsourcing of such work to the private sector:
Historically, the interpretation of intelligence had been exclusively reserved to government agencies, but several of the most critical targets of intelligence had become highly technical.  They included ICBMs, nuclear bombs, ballistic missile defense systems, and supersonic aircraft. To collect data on these sophisticated weapons systems, Perry explains, required technical reconnaissance equally as complex. The federal government began to contract with private companies possessing the requisite knowledge and skills.
Hence, a gaggle of corporations entered or flourished in a market with a profit motive in favor of military conflict.  This, combined with incentives built into the system over the years to overcharge taxpayers – such as cost-plus contracting and no-bidding – the odds of policies favoring disarmament and diplomacy have been at an increasing disadvantage.
According to journalist, Andrew Cockburn, this dynamic explains the latest policy out of Washington to spend $1 trillion to completely update our nuclear arsenal, coming from an administration headed by a Nobel Peace Prize laureate who has periodically invoked a desire toward nuclear disarmament no less:
Ongoing and dramatic programs to invest vast sums in meaningless, useless or superfluous weapons systems are the norm.  There is no more striking example of this than current plans to rebuild the entire American arsenal of nuclear weapons in the coming decades, Obama's staggering bequest to the budgets of his successors….They serve no useful purpose beyond deterring putative opponents from using them, for which an extremely limited number would suffice….In the Cold War as today, the idea of "nuclear war fighting" could not survive scrutiny in a real world context.  Despite this self-evident truth, the U.S. military has long been the pioneer in devising rationales for fighting such a war via ever more "modernized" weapons systems….The drive to develop and build such systems on the irrational pretense that nuclear war fighting is a practical proposition persists today.
Perry sees this thinking as outdated and dangerous, one that inevitably leads to escalation.  He confirms that nuclear weapons cannot actually be used due to "the risk of uncontrollable and catastrophic escalation" being far too high.
As Cockburn demonstrates, this does not stop Washington politicians from continuing on with this insanity.
One component of the current "modernization" plan is the proposed development of a new "dial-a-yield" version of the venerable B-61 nuclear bomb.  Supposedly capable of delivering explosives of varying strength according to demand, this device will, at least theoretically, be guidable to its target with high degrees of accuracy and will also be able to burrow down into the earth to destroy buried bunkers.  The estimated bill — $11 billion – is a welcome boost for the fortunes of the Sandia and Los Alamos weapons laboratories that are developing it.
Cockburn goes on to explain that the cost will likely be far more than the government or the weapons makers estimate as historical studies of the estimated cost versus the actual bill on previous weapons systems reveal, including the F-35 boondoggle – estimated at $35 million each and coming in at actual cost of more than $200 million.  It should be mentioned that the F-35 is in many ways inferior to previous military planes.
This phenomena is called the bow wave, "referring to the process by which current research and development initiatives, initially relatively modest in cost, invariably lock in commitments to massive spending down the road.  Traditionally, such waves start to form at times when the military is threatened with possible spending cutbacks due to the end of a war or some other budgetary crisis."
This is what happened in the wake of the first Cold War's end when congressional representative and House Speaker Jim Wright had convened a committee of fellow representatives to discuss and pass legislation on behalf of an economic conversion, translating into the "peace dividend."  This included consideration of a bill sponsored by representative Tim Weiss, which called for the establishment of Alternative Use Committees comprised of those from labor and management in the defense industry who would prepare "a complete technical economic plan for the use of the people and facilities following termination of work for the Pentagon."
The legislation would have also mandated occupational retraining for engineers and managers who were veterans of the Pentagon for 10 years or longer to ensure proper training in cost minimizing instead of the entrenched practice of cost-maximizing fostered in the defense industry.  The conversion program would have been overseen by the Commerce Department to encourage all levels of government to prepare their budgets accordingly in support of conversion.
In the weeks following the bill's historic introduction, however, a smear campaign against Speaker Wright was initiated – led by Newt Gingrich, whose district just happened to be home to the headquarters of Lockheed Martin – based on trumped up charges of financial misconduct, forcing Wright's resignation.
With the bill's most powerful shepherd effectively eliminated, the legislation died quietly.
Cockburn cited bow waves happening after pullbacks from Iraq and Afghanistan as well as the end of our war in Vietnam.
Joe Lauria, a veteran foreign affairs journalist based at the UN since 1990, recently wrote of his conversation with a top European diplomat who privately admitted a similar phenomenon was at work with regards to NATO and hyping the "Russian threat."
Two years ago I was in a background briefing with a senior European ambassador at his country's U.N. mission in New York and could hardly believe my ears when he said talk about Russia's threat to Eastern Europe was "all hype" designed to give NATO "a reason to exist."  Yet this same ambassador in public Security Council meetings would viciously attack Russia.

But the hype is about more than just saving NATO.  The fear campaign feeds the American and European military industries and most importantly puts pressure on the Russian government, which the U.S. wants overthrown.
To buttress this interpretation of the threat of Russia being a dangerous myth promulgated to prop up the merchants of death and the imperialist ideologues in Washington, the chairman of NATO's military committee, General Petr Pavel, admitted during a press conference in Brussels in recent weeks that Russia was not considered a threat:
It is not the aim of NATO to create a military barrier against broad-scale Russian aggression, because such aggression is not on the agenda and no intelligence assessment suggests such a thing.
As Brown concludes in his review of Perry's book, we seem to be potentially "sleepwalking" into Armageddon.
While many complain of the obvious dysfunction in Washington, few see the incomparably greater danger of "nuclear doom" because it is hidden and out of public consciousness.  Despite an election year filled with commentary and debate, no one is discussing the major issues that trouble Parry.  It is another example of the rigid conformity that often dominates public discourse.  Long ago, I saw this in the Vietnam War and later in the invasion of Iraq; intelligent people were doing mindless – and catastrophic – things.  "Sleepwalking" is the term historians now use for the stupidities that got European leaders into World War I and for the mess they unleashed at Versailles.  And sleepwalking still continues as NATO and Russia trade epithets and build their armies and Moscow and Washington modernize their nuclear overkill.  A new cold war.  Fortunately, Bill Parry is not sleepwalking and he is telling us, in My Journey at the Nuclear Brink, to wake up before it is too late.
*Note:  William Perry is currently a member of the American Committee for East West Accord, which seeks détente between the U.S. and Russia