A new poll conducted by Pew in May and released last week, shows that a majority of U.S. war veterans, along with a majority of Americans in general, don't believe that the wars in Iraq, Afghanistan or Syria have been worth fighting. A graphic representing the results is here: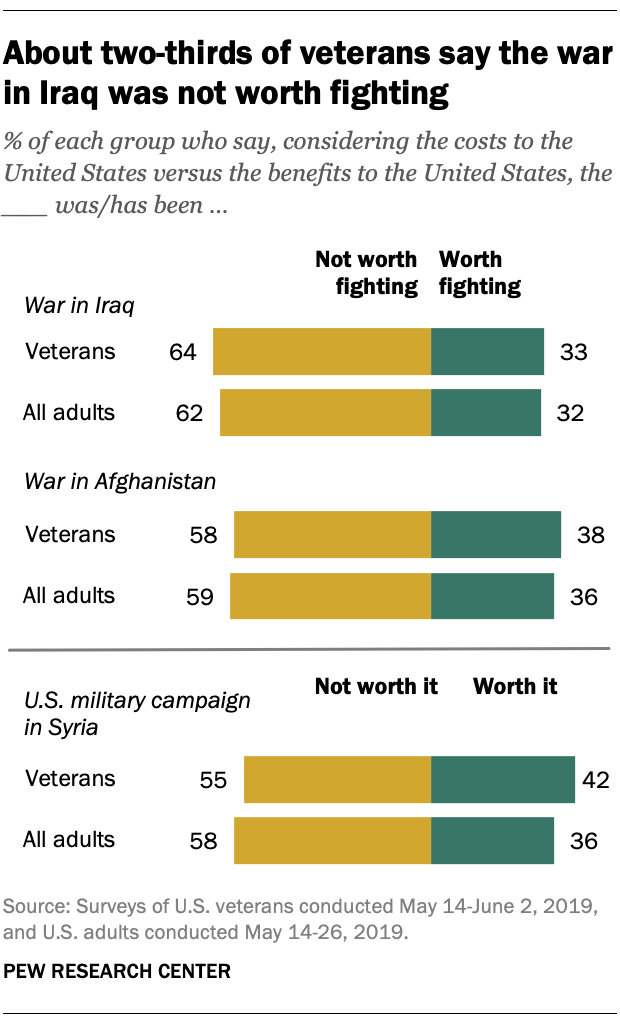 Bryan MacDonald relayed the results of a recent survey of Russians from the Institute of Sociology of the Russian Academy of Sciences. The survey asked Russians their view of democracy and Russia's relations with the west. According to the results: 48 percent of Russians want a change in their country's governance and 62 percent believe that some form of democracy is necessary, but western-style liberal democracy was not looked upon as desirable for Russia as 45 percent thought it would bring "chaos and destruction" to their country. As for overall relations with the west, only 24 percent thought they could ever be friendly as opposed to distrustful.
This leads me to believe that my long-standing view of Washington's foreign policy being counter-productive and in need of a change is as true as ever. Rather than throwing our weight around and bullying the rest of the world to accept our definition of democracy at the end of a gun barrel, we should get our own house in order and provide a more inspiring example to everyone.
The people actually living in a country know better than we do what kind of government and economic system will work best for them, according to their culture and history.
We've all known that certain someone in our families or neighborhoods, etc. who constantly dominates, meddles and thinks they know what's best for everyone else. They also tend to pontificate constantly and never shut up long enough to learn from anyone else.
We should strive not to be that person in the form of a country.
On July 12th, a rocket propelled grenade attack was launched at a TV station in Kiev that was scheduled to air an award-winning documentary by Oliver Stone called Revealing Ukraine. The documentary attempts to follow Ukraine's path from independence in 1991 to today. It included information from Dr. Ivan Katchanovski, a Canadian-Ukrainian academic who has done the most thorough analysis of the Maidan sniper attacks in February of 2014. As readers of this blog may recall, Katchanovski's work discredits the Maidan government and Washington's account – which the MSM has accepted without question – that the scores of people, both protesters and police, killed on the Maidan on March 21st, were murdered by the forces of the Yanukovich government. Katchanovski's work shows that the deadly shots came from buildings that were controlled by the Maidan forces.
Katchanovski said the following regarding the attack:
#Ukraine TV cancels US documentary broadcast after #Terrorist attack & threats by far right to attack it, by Prosecutor General to launch state treason & terrorism financing investigation & by National Television & Radio Broadcasting Council to sanction it
Popular #Ukrainian TV channel is shelled from grenade launcher in order to prevent its broadcast today of US #Documentary by @TheOliverStone. It would reveal involvement of #Maidan snipers in Maidan massacre. Would there be any reaction from US government?
Apparently there were threats of stopping the broadcast of the documentary prior to the attack:
The National Council of Television and Radio Broadcasting of #Ukraine states that it would monitor this US #documentary and threatens sanctions against a popular Ukrainian news TV channel for showing it
Footage of the attack is below. There are no reported casualties.
The OSCE Representative on Freedom of the Media, Harlem Desir, immediately condemned the attack:
"I condemn the attack on channel 112 Ukraine premises today in Kyiv. Hopefully nobody was wounded but such violence and threats against media cannot be tolerated. This is an unacceptable act of intimidation which could have had dramatic consequences," Désir said, welcoming the swift response of law enforcement officials in the case.
"I call on the Ukrainian authorities to thoroughly investigate this attack, and to bring those responsible for this crime to justice," Désir said.